COMPANY
FEELING THE SENSE WITH FAIR TRADE CASHMERE
FTC® stands for Fair Trade Cashmere and a positive attitude towards life. Founded in 2003, the family business has established itself as a knitwear specialist in the premium sector. FTC® is unique in that it manages the entire value chain - from growing the feed for its own cashmere goats, to manufacturing, to quality control - and thus all steps itself.
Jutta and Andreas Knezovic shared their passion for cashmere and wanted to create fashion with their own ethical standards. Thus FTC® was born - fashion that is distinguished by human and moral values. Now FTC® is run together with the second generation - Jana and Adrian Knezovic.
The majority of the collections are made of 100% Cashmere, with exclusive material blends (e.g. Seacell™ Cashmere) rounding out the range.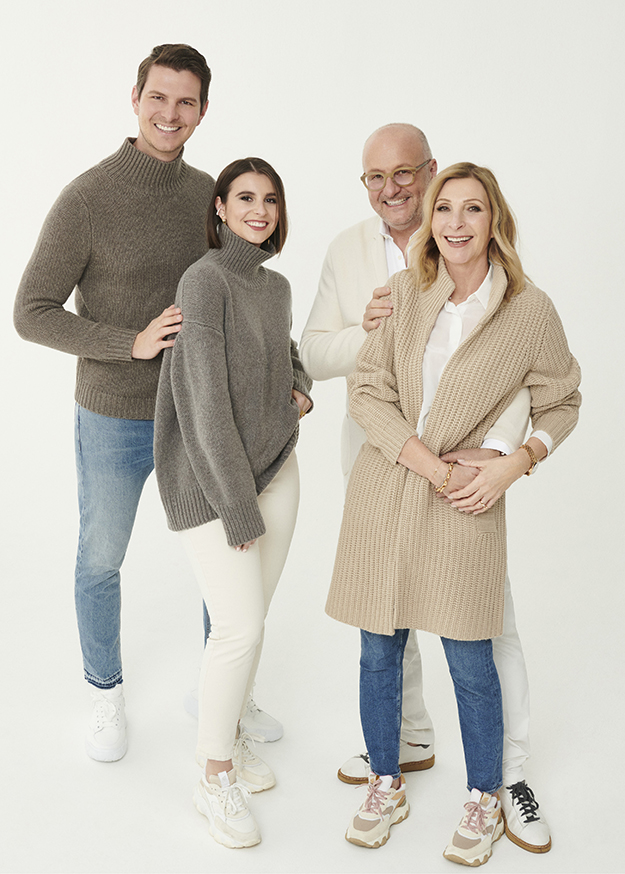 OUR PASSION
YOUR MOMENTS


The FTC® brand stands for Fair Trade Cashmere and carries the fair trade idea not only in its name, but also in its heart. A sustainable way of working is the basis of the company's business and success. This enables the entire region around the FTC® production sites in Shaanxi and Hebei provinces to enjoy fair wages, long-term employment and good working conditions. Over the years, close partnerships and a deep understanding of local needs have thus been formed.
As an important economic driver in the region, FTC® invests not only in its own company but also in local people, for example by supporting and building schools. This leads to close ties with the entire region and also ensures the outstanding quality of all FTC® products.
WE DO CARE – We do accept, take and live Responsibility
RESPONSIBILITY
SUSTAINABILITY IN OUR OWN HANDS AND HEARTS
From the cashmere goat to the fashion piece - the entire value chain has been in the hands of the family-owned company FTC® since the beginning.
It all starts in the heights of Hebei (China), where FTC®'s approximately 30,000 cashmere goats are at home. The animals are fed on alfalfa and corn, which FTC® grows near the farm. With a specially developed set of animal husbandry rules, FTC® also takes responsibility for treating its animals well. To further ensure animal welfare, FTC® cooperates with national universities and has the health of the cashmere goats regularly checked by specialists.
The fine underhairs of the cashmere goats are harvested annually at the change of season from winter to summer with a lot of patience and care. The knowledge of the cashmere goat is passed down through generations by our employees.

From carding and dyeing, to spinning and knitting - all process steps of the processing to the fashion piece take place in our own manufactory in the Chinese province of Hebei. The own manufactory enables transparency, control and overview for FTC®, because therefore only very few middlemen (for product ingredients like buttons) are involved.
TIMELINE
2003 - Foundation in Rosenheim (Bavaria)
2004 - Logistics center in Niederndorf (Austria) and establishment of own production in China
2005 - Relocation of the company headquarters to Switzerland
2007 - Start "Farmer Protection Program" and opening of first school in Shaanxi province
2009 - Relocation of the first school to larger premises and opening of "Goat Breeding Farm
2016 - Entry of the next generation with Jana and Adrian Knezovic
2017 - Groundbreaking of the big farm project
2018 - Installation of solar system in the production
2019 - Complete conversion Europe to green electricity and start implementation of certifications
2020 - Physical proof of the value chain by Haelixa
2021 - Climate neutrality for the entire company, products and processes
2021 - All products are certified with STANDARD 100 by OEKO-TEX®
VISION AND VALUES
Our vision is to be recognized worldwide for being able to consume fashion with a good feeling and conscience without exception.